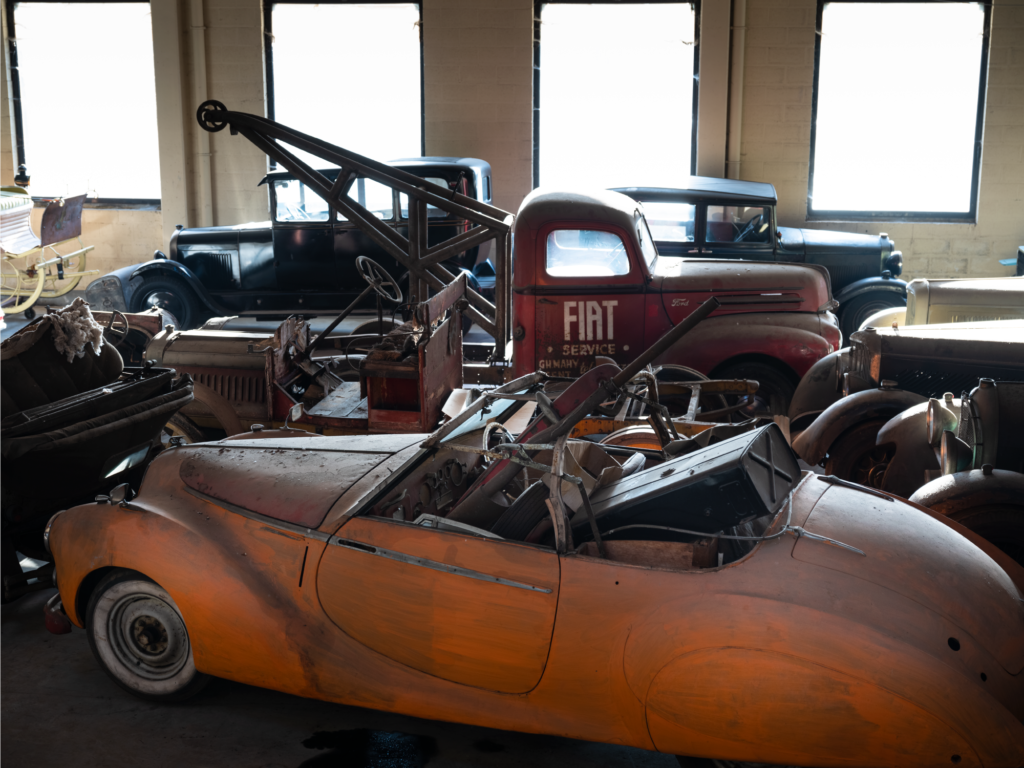 This Talbot Lago was built by Iakov Saoutchik, one of France's most extravagant coachbuilders in the first half of the 20th century. He was known not only for his high quality workmanship, but above all for his flamboyant design, which made extensive and tasteful use of ornaments.
Iakov Saoutchik was the son of a Russian-Ukrainian family. He landed in Paris in the late 19th century to try his luck. As a young man he was apprenticed to cabinetmakers, but very soon Iakov, who henceforth referred to himself as Jacques, built up extra earnings by carrying out jobs for various coachbuilders.
In 1906, the young, ambitious man started his own business in Neuilly-sûr-Seine, at the time an industrial appendage of Paris. By the mid-1920s, he was already very highly regarded as the 'crème de la crème' among coachbuilders. One of his most famous selling points was that a single person should be able to open or close the roof of a convertible. 
Saoutchik enjoyed world fame and attracted quite a few customers of royal blood. He covered the priciest, expensive chassis of all expensive car brands with beautiful bodies.
Make  Talbot Lago
Model/type  15 LB
Coachwork  Saoutchik
Construction year  1950
Colour coachwork  Orange
Engine  4 cylinder
Power  15 hp
Cette Talbot Lago a été construite par Iakov Saoutchik, l'un des carrossiers designers les plus extravagants de France de la première moitié du 20ème siècle. Il était connu non seulement pour sa haute qualité de finition, mais surtout pour son design flamboyant, recourant de manière intensive et élégante aux ornements.
Iakov Saoutchik était le fils d'une famille russo-ukrainienne. Il était arrivé à Paris à la fin du 19ème siècle pour tenter sa chance. Jeune homme, il a été apprenti auprès d'ébénistes, mais très vite, Iakov, se faisant désormais appeler Jacques, a développé un gagne-pain supplémentaire en créant des designs pour divers carrossiers.
En 1906, le jeune homme ambitieux créait sa propre entreprise à Neuilly-sûr-Seine, qui était alors la banlieue industrielle de Paris. Vers la moitié des années '20, il était déjà très apprécié et considéré comme la 'crème de la crème' des carrossiers. L'un de ses arguments de vente les plus connus était qu'une seule personne doit pouvoir ouvrir ou fermer le toit d'une décapotable. 
Saoutchik jouissait d'une renommée mondiale et attirait pas mal de clients de sang royal. Il a habillé de magnifiques carrosseries les châssis les plus chers de toutes les marques de voitures onéreuses.
Auto  Talbot Lago
Modèle/type  x
Carrosserie  Saoutchik
Année de construction  1950
Couleur  Orange
Moteur  4 cylindres
Puissance  15 cv
Deze Talbot Lago werd gebouwd door Saoutchik , één van Frankrijks' meest extravagante coachbuilders in de eerste helft van de twintigste eeuw. Hij stond bekend omwille van zijn hoge kwaliteit van afwerking , maar bovenal om zijn flamboyante design welke vooral veel en smaakvol gebruik maakte van ornamenten. 
Zoon van een Russisch – Oekrainsche familie belanden ze in Parijs aan het einde van de 19e eeuw om er hun geluk te beproeven. Als jonge man gaat hij te leer bij meubelmakers maar al heel snel begint Lakov Saoutchik te werken voor verschillende carrosseriebouwers. 
In 1906 begint deze jonge ambitieuze man zijn eigen bedrijfje in Neuilly-sûr-Seine, toen een industrieel aanhangsel van Parijs. Mid de jaren 20 stond hij reeds heel hoog aangeschreven als La crème de la crème an de Carrosseriebouwers. Één van zijn bekendste verkoopargumenten was dat 1 persoon alleen in staat moest zijn om het dak van een convertible open of dicht te maken. Saoutchik genoot wereldfaam en menig koninkrijk waren dan ook klant bij hem. Hij bekleedde de allerduurste chassis van alle dure automerken met prachtige carrosserieën.
Auto  Talbot Lago
Model/type  15 LB
Koetswerk  Saoutchik
Bouwjaar  1950
Kleur koetswerk  Oranje
Motor  4 cil
Vermogen  15 pk