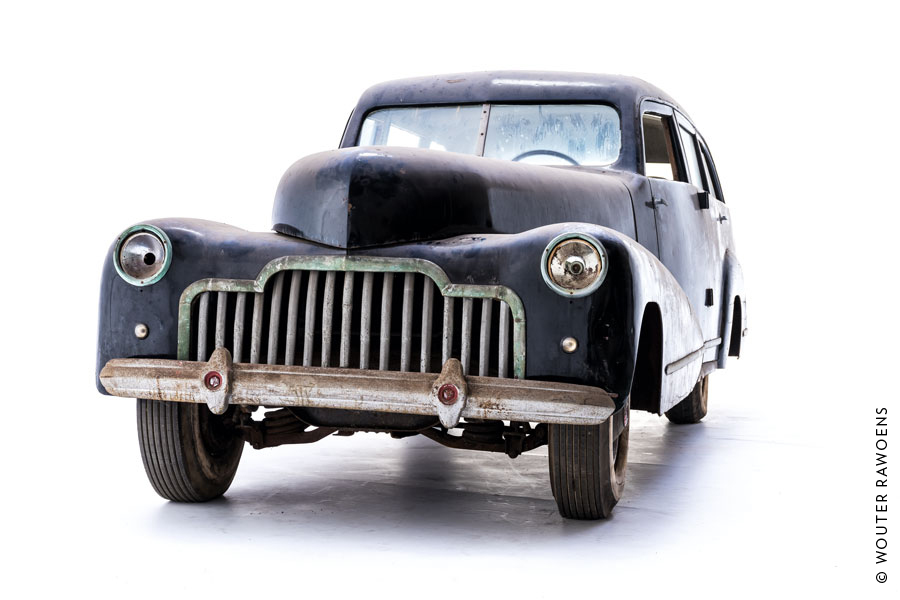 'Ask the man who has got one.' That was the advertising slogan of Packard, the purveyor of luxury on four wheels to prosperous Americans in the Roaring Twenties. Unfortunately, the Wall Street Crash and the Great Depression changed all that. In the 1930s, Packard was forced to switch to modest 'middle of the road' cars. During those difficult economic years, there was no great need for fancy limousines. They were very few and far between.
Perhaps that is why Ivan Mahy didn't hesitate for a second in the 1970s when he was given the chance to get his hands on a rare pre-Second World War Packard V12. The seller only wanted 15,000 francs for it. 'A real bargain,' Mahy must have thought. But that was before he saw the terrible state of the coachwork: the car was almost unrecognisable as a Packard. After the war, a closed body had been mounted on the long 1930s chassis, making the car seem heavy and clumsily large. The long bonnet looked like a shiny black coffin! Yet not withstanding its huge overall size, there was hardly enough space inside to sit down. The neglected radiator grill of the blunt nose had the appearance of a set of bad teeth, vaguely suggestive of a Buick from the war years, which was probably used as a model for the Packard's 'revamping'. The brand's characteristic silver pelican had flown south for the winter, but a chrome plate screwed to the dashboard informed anyone who was interested of the previous owner's name. This name was almost undecipherable under several layers of varnish, but was eventually identified as that of Baron De Wangen de Geroldseck, an aristocrat from the Vosges region of France, but with connections in Brussels. There, however, the trail ran cold. The name of De Wangen de Geroldseck, together with the family who bore it, was eradicated in the Nazi concentration camps.
As a result of the United State's pre-war policy of isolation, the Packard V12 was originally only intended for the American market. Only a handful were ever shipped across the Atlantic to Europe. One is known to have been taken into service by the Belgian royal family. Was this royal cabriolet converted during or after the war into this monster with the hideous coachwork? Who can say? The Mahys christened the 1935 Packard 'Lord Dracula' and later in the decade of its purchase it won first prize at a concours d'élégance for old-timers: not as the most beautiful car in the competition, but as the ugliest! For many years, Ivan Mahy cherished the hope that he might one day find an original body for the 6-metre long V12. But he never did.
Make  Packard
Model/type  V12
Coachwork  Unknown
Construction year  1935
Colour coachwork  Black
Engine  V12
Displacement  473.3 ci
Gearbox  Manual
« Demandez à ceux qui en ont une ! » Tel est le slogan publicitaire de Packard, fournisseur de luxe sur roues à l'Amérique fortunée des roaring twenties. Mais la Grande Dépression change tout et, pour garder la tête au-dessus de l'eau en ces temps d'agitation économique, la marque se voit contrainte de construire des « classes moyennes » sans excès. Les limousines majestueuses se font rares, très rares.
Ivan Mahy n'hésite donc pas un instant quand on lui propose dans les années 1970 une Packard d'avant-guerre si rare. Le vendeur en veut 15 000 bef. Une bonne affaire, sait Mahy, même s'il n'a pas encore vu la voiture avec sa carrosserie reconstruite. Elle se révèle horrible, tant la Packard est méconnaissable. Sur l'immense châssis avait été construite après la guerre une carrosserie fermée. Trop lourde, trop grossière, avec un capot ressemblant à un brillant cercueil noir.
En plus, malgré sa taille grotesque, on peut à peine s'y asseoir. La calandre sur le nez aplati a l'air d'une dentition mal soignée, rappelant vaguement la Buick des années de guerre qui a – qui sait ? – servi de modèle pour la transformation. Pas la moindre trace non plus du pélican argenté qui orne alors le capot de toutes les Packard. Sur le tableau de bord a été vissée une petite plaque en chrome avec, à peine visible sous l'épaisse couche de vernis, le nom gravé du précédent propriétaire. La plaquette conduit à Bruxelles vers un certain baron De Wangen de Geroldseck, du sang bleu originaire des Vosges. Mais là, les recherches sur l'origine de la hideuse Packard se retrouvent dans l'impasse. Le nom De Wangen de Geroldseck a disparu, avec toute la famille qui le portait, dans les camps de concentration nazis.
Fidèle à la politique isolationniste d'avant-guerre, la Packard V 12 est en fait uniquement destinée au marché américain. Seule une poignée d'exemplaires a fait la traversée vers l'Europe, dont une six-places a été au service de la famille royale belge vers la fin des années 1930. Est-ce ce cabriolet royal qui s'est vu estropié après la guerre pour devenir ce colosse à la carrosserie monstrueuse ? Quoi qu'il en soit, les Mahy baptisent gentiment leur Packard de 1935 « Lord Dracula ». Dans cette même période de l'achat, elle remporte d'ailleurs un premier prix lors d'un concours d'élégance de voitures anciennes, non comme plus belle voiture de la compétition, mais comme la plus laide ! Ivan Mahy a gardé très longtemps l'espoir de trouver une carrosserie originale pour réhabiliter la V 12 avec sa longueur de 6 m, mais il n'y a jamais réussi.
Auto  Packard
Modèle/type  V12
Carrosserie  Inconnu
Année de construction  1935
Couleur  Noire
Moteur  V12
Cylindrée  473,3 pouces cubes
Boîte de vitesses  Manuelle
'Vraag het aan de man die er een heeft.' Dat was de reclameslogan van Packard, leverancier van luxe op wielen aan welgesteld Amerika in de roaring twenties. Maar de grote depressie veranderde alles en Packard moest matige middenklassers bouwen om overeind te kunnen blijven in die tijden van economisch rumoer. Statige limousines werden schaars, heel schaars.
Ivan Mahy twijfelde dan ook geen moment, toen hij zo een zeldzame vooroorlogse Packard kreeg aangeboden in de jaren 1970. De verkoper wilde er 15.000 frank voor. Een koopje, wist Mahy, ook al had hij de auto met de vertimmerde carrosserie nog niet gezien. Die bleek uiteindelijk wanstaltig te zijn, zo onherkenbaar was de Packard. Op het eindeloze chassis was na de oorlog een gesloten koetswerk gemonteerd. Te zwaar en te lomp, met een motorkap die op een glimmend zwarte doodskist leek. En ondanks zijn groteske gestalte kon je er nauwelijks in zitten. De stompe neus had een grille als een verwaarloosd gebit, die vaag herinnerde aan de Buick uit de oorlogsjaren die wellicht model had gestaan voor de verbouwing. Van de zilveren pelikaan die op de motorkap van elke Packard had moeten prijken, was geen spoor meer te bekennen. Op het dashboard was een chromen plaatje gevezen, met daarin de naam van de vorige eigenaar gegraveerd. Nauwelijks leesbaar onder een dikke laag vernis. Het plaatje leidde naar Brussel en een zekere baron De Wangen de Geroldseck, blauw bloed afkomstig uit de Vogezen. Daar liep de zoektocht naar de herkomst van de afzichtelijke Packard dood. De naam De Wangen de Geroldseck was, samen met de familie die hem droeg, verdwenen in de concentratiekampen van de nazi's.
Trouw aan de vooroorlogse isolatiepolitiek was de Packard V12 eigenlijk alleen voor de Amerikaanse markt bestemd. Slechts een handvol exemplaren maakte de oversteek naar Europa. Een ervan was in de late jaren 1930 als zeszitter in dienst geweest van de Belgische koninklijke familie. Was die royale cabriolet na de oorlog verminkt tot de geweldenaar met het monsterlijke koetswerk? De Mahy's doopten hun Packard uit 1935 liefkozend 'Lord Dracula'. In diezelfde jaren 1970 van de aankoop schoot Lord Dracula de hoofdvogel af op een concours d'élégance voor oldtimers, niet als mooiste auto in de competitie, maar als lelijkste. Nog jarenlang hoopte Ivan Mahy een originele carrosserie te vinden om de zes meter lange V12 in ere te herstellen, maar dat is hem nooit gelukt.
Auto  Packard
Model/type  V12
Koetswerk  Onbekend
Bouwjaar  1935
Kleur koetswerk  Zwart
Motor  V12
Cilinderinhoud  473,3 ci
Versnellingsbak  Manueel