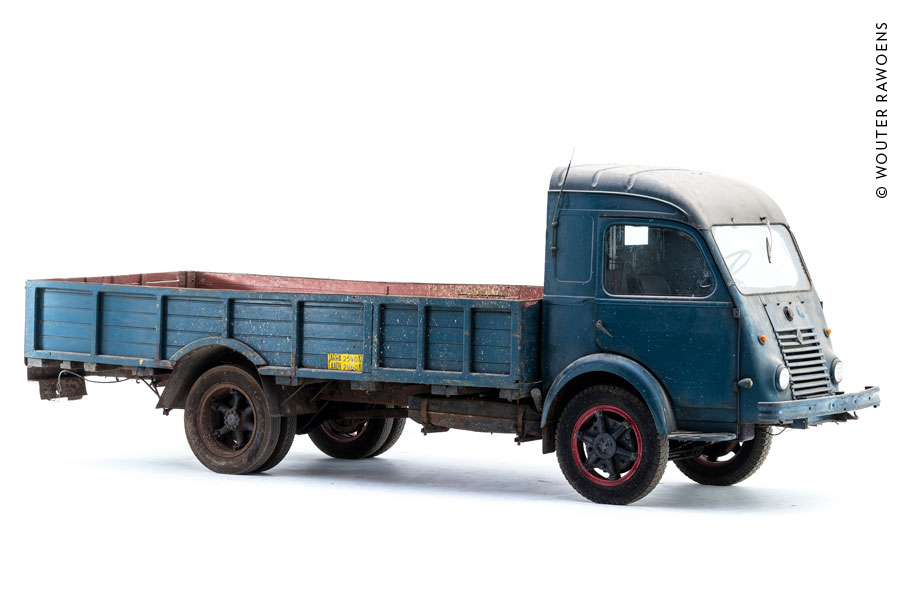 The early post-war journeys made by Ghislain Mahy to France to pick up cars for his collection were often hair-raising adventures. Sometimes he would tow three old-timers behind his lorry. On other occasions there might be even more, balanced precariously on trailers pulled by a van that had also seen better days. It was a miracle that nothing ever went seriously wrong! At the end of the 1950s, after another of these journeys, with non-stop moaning and flat tyres all the way home, Ghislain Mahy finally decided to buy a bigger lorry (cheap, of course). The Renault R2165 was far from new, but was in good condition. On to its long 3-ton chassis, Mahy welded a loading deck that he had also picked up cheaply elsewhere. The addition of an old hand winch from father Louis Mahy's time and a series of steel plates were intended to make the future loading of cars a piece of cake. But it seldom was, even when Ghislain later installed an electric winch. And if this was not reckless enough, the Renault was also expected to tow a new trailer, made from a converted army ammunition carrier!
The Renault lorry was first marketed in 1947 under the type name 2T5, a reference to the weight of the short version. Ten years later, production was switched to Saviem, a Renault subsidiary, and the name was changed to Galion. Mahy's Renault was made in 1954 at the Renault factory in Boulogne-Billancourt, just west of Paris.
For many years, the temperamental lorry carried home load after load of cars to Ghent, often from the furthest corners of Belgium and France. When, after many thousands of kilometres, it was finally due for retirement, Mahy sold it to a scrap dealer. He replaced it with a robust Ford. At the end of the 1970s, a stranger approached Mahy at a car event. He was also a scrap dealer and said that the old lorry was still standing in his yard, although it had since been painted olive blue. In a rare moment of sentimentality, Mahy decided to buy his old workhorse for the same price he had received for it.
Make  Renault
Model/type  Galion R2165
Coachwork  Renault
Construction year  1954
Colour coachwork  Blue
Engine  4-cylinder
Displacement  2141 cc
Gearbox  Manual
Les voyages que Ghislain Mahy entreprend après-guerre en France pour y récupérer de vieilles voitures sont souvent des entreprises hasardeuses. Parfois avec trois vieux tacots remorqués derrière le camion ou d'autres fois avec une énorme remorque sur un seul essieu tirée par une camionnette, il s'en faut souvent de peu que l'aventure ne tourne à la catastrophe. Après encore un périple émaillé de jurons et de pneus crevés, Ghislain Mahy se procure à la fin des années 1950 un vieux camion. Le Renault 2165 n'est certes pas neuf, mais en bon état. Sur le long châssis de plus de 3 t, Mahy fixe par soudure une plate-forme de chargement qu'il a récupérée ailleurs. Un vieux treuil manuel du père Louis Mahy et un jeu de plaques d'acier doivent faciliter le chargement de voitures sur le camion Renault. Les opérations ne se déroulent pas pour autant de manière toujours fluide, même pas avec le treuil électrique que Ghislain installe quelques années plus tard sur le Renault. Et comme s'il ne prenait pas déjà assez de risque, le camion tire encore un transporteur d'obus transformé en remorque derrière lui. Le Renault avait été lancé en 1947 sous le nom de type 2T5, faisant référence au poids de sa version courte. Dix ans plus tard, la production déménage vers la filiale Saviem et le camion hérite du nouveau nom de Galion pour désigner le type. Quant au Renault de Mahy, il a quitté en 1954 l'usine Renault à Boulogne-Billancourt un peu à l'est de Paris. Pendant de longues années, le camion capricieux transporte des coins les plus reculés de France et de Belgique des voitures pour la collection. Au moment où il faut le remplacer, Mahy le vend à un ferrailleur et choisit un robuste camion Ford. Lors d'un événement à la fin des années 1970, Ghislain Mahy est accosté par un homme qui se révèle être le ferrailleur en question. Le Renault se trouve toujours sur son terrain, repeint en bleu pétrole. Pris de nostalgie, Mahy rachète sur-le-champ son vieux cheval de trait pour le même prix qu'il en avait obtenu jadis.
Auto  Renault
Modèle/type  Galion R 2165
Carrosserie  Renault
Année de construction  1954
Couleur  Bleue
Moteur  4 cylindres
Cylindrée  2141 cm³
Boîte de vitesses  Manuelle
De naoorlogse reizen die Ghislain Mahy ondernam naar Frankrijk om er oude auto's op te halen, waren hachelijke avonturen. Met soms wel drie oldtimers op sleeptouw achter de vrachtwagen, of met een reusachtige aanhangwagen op één as getrokken door een bestelwagen, eindigden ze meer dan eens net niet in een ravage. Na weer zo een reis vol gesakker en lekke banden kocht Ghislain Mahy eind jaren 1950 een goedkope vrachtwagen. De Renault R2165 was niet nieuw, maar wel in degelijke staat. Op het lange chassis van ruim 3 ton laste Mahy een open laadbak, die hij elders op de kop had getikt. Een oude handlier van vader Louis Mahy en een stel stalen platen moesten ervoor zorgen dat de Renault vlot auto's kon opladen. Maar vlot ging het lang niet altijd, ook niet toen Ghislain enkele jaren later een elektrische lier op de Renault monteerde. Alsof het nog niet roekeloos genoeg was, sleepte de vrachtwagen een tot aanhangwagen omgebouwde bommendrager achter zich aan. De Renault was in 1947 op de markt gebracht met 2T5 als typenaam, een verwijzing naar het gewicht van de korte versie. Tien jaar later verhuisde de productie naar dochterbedrijf Saviem en kreeg de vrachtwagen Galíon als nieuwe typenaam. De Renault van Mahy was in 1954 uit de Renault-fabriek gerold in Boulogne-Billancourt, iets ten westen van Parijs.
Jarenlang sleepte de nukkige vrachtwagen auto's voor de collectie aan uit de verste uithoeken van België en Frankrijk. Toen hij na duizenden kilometers aan vervanging toe was, verpatste Mahy de Renault aan een schroothandelaar. Een robuuste Ford nam zijn plaats in. Eind jaren 1970 klampte een man Ghislain Mahy aan op een autotreffen. Het was de opkoper. De Renault stond nog altijd tussen de wrakken op zijn terrein. Ondertussen was hij olieblauw geverfd. In een nostalgische bui kocht Mahy het oude werkpaard meteen terug voor dezelfde prijs die hij er destijds voor gekregen had.
Auto Renault
Model/type Galion R2165
Koetswerk Renault
Bouwjaar 1954
Kleur koetswerk Blauw
Motor 4 cil
Cilinderinhoud 2141 cc
Versnellingsbak Manueel