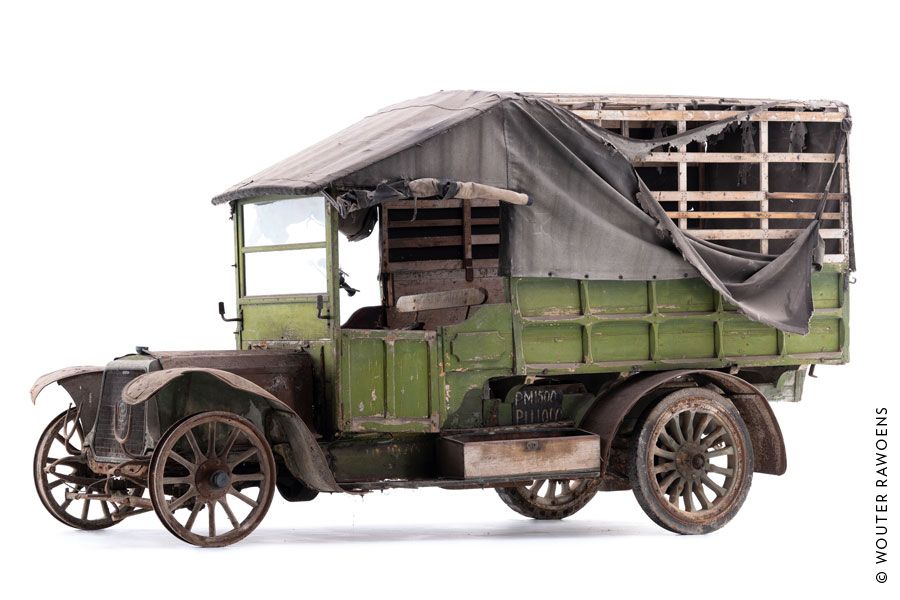 L'a-t-on vu cahoter sur les routes côtières françaises avec des caissons de moules pour cargaison ? Ou a-t-il amené des cageots d'huîtres aux restaurants de Paris-Plage ? Peut-être le Panhard & Levassor a-t-il transporté des pièces d'avion pour le pionnier de l'aviation Louis Blériot qui s'était installé en 1910 au Touquet ? Personne n'en savait rien. Le camion se trouvait depuis de longues années inemployé, exposé à l'air marin du nord de la France, quand Ghislain Mahy l'achète en 1950 chez un ferrailleur. Pour le prix de la ferraille, il peut le charger sur la remorque avec deux autres vétérans français. Pour avoir mené une vie de labeur, l'état du Panhard & Levassor de 1907 était relativement bon. Il n'avait plus ses pneus avant, mais la cabine et la plate-forme étaient plus ou moins intactes. Même la bâche de protection pour les précieux chargements n'était déchirée qu'à quelques endroits. Du moins à ce moment-là. Depuis, le temps ne l'a pas épargné et plus d'un demi-siècle de corrosion a réduit le camion en une ruine sur roues.
Le Panhard & Levassor est un vrai Parisien, construit dans l'ancienne usine située avenue d'Ivry. C'est aussi un modèle exceptionnel, car la marque était surtout connue pour ses voitures de course et ses limousines de luxe. Créée par René Panhard et son compagnon d'études Émile Levassor en 1886, c'est une des plus anciennes marques d'automobiles du monde. Si la mort de Levassor dans un accident d'automobile risque de tout chambouler, Panhard décide, après une période de doute et malgré son chagrin, de poursuivre seul. Après la Seconde Guerre mondiale, la marque française jadis si célèbre décline, est reprise par Citroën avant de disparaître en 1967 sans faire de bruit. Quel contraste avec les premières années du xxe siècle qui ont vu les Panhard & Levassor se donner du bon temps au Grand Prix de France. En 1907, ce ne sont pas moins de trois bolides de course Panhard qui piaffent d'impatience sur la ligne de départ à Dieppe. Et dans les rues de Paris se pavane alors la Panhard & Levassor La Marquise dans ses couleurs lilas et bleu poudré. Bien plus élégante que notre camion aux garde-boue cabossés et grinçant de toutes ses planches, datant de la même année, mais nettement moins charmant.
Auto  Panhard & Levassor
Modèle/type  Camion
Carrosserie  Panhard & Levassor
Année de construction  1907
Couleur  Verte
Moteur  4 cylindres
Puissance  15 CV
Boîte de vitesses  Manuelle
Did it once carry crates of mussels over the coastal roads of France? Or transport tons of oysters to the restaurants in Paris-Plage? Or perhaps even shipped aeroplane parts for the aviation pioneer Louis Blériot, who moved to Le Touquet in 1910? Nobody knows. What we do know is that after its working life this Panhard & Levassor lorry spent many years corroding in the salty air of Northern France – which was where Ghislain Mahy bought it from a scrap dealer at the end of the 1950s. In fact, the lorry was not in bad condition for a much-used vehicle dating from 1907. It had lost its front wheels, but the cabin and the loading deck were more or less intact. Even the tarpaulin was still there, with only a few minor tears. Or that, at least, is how it was back then. During the intervening half century the ravages of time have done their deadly work, so that the lorry is now a rusted ruin on four wheels.
The Panhard & Levassor originally came from Paris, built at the factory in the Avenue d'Ivry. It was an unusual vehicle for this company, since it specialised primarily in racing cars and luxury limousines. Founded in 1886 by René Panhard and his fellow student Emile Levassor, it was one of the oldest automobile brands in the world. The death of Levassor in a car accident threatened to end the company prematurely, but the grieving Panhard eventually decided to carry on alone. After the Second World War, however, the once celebrated company went into a decline from which it never recovered. It was taken over by Citroën and in 1967 quietly went out of business. This sad demise was in stark contrast to the glory years of the early 20th century, when Panhard & Levassor not only dominated the French Grand Prix – in 1907 three of their cars lined up at the start in Dieppe – but also cornered a large part of the luxury market, with their famous La Marquise model in lilac and powder blue. These were far more elegant models than the lorry made that same year, but who can deny that this workhorse also has a charm of its own?
Make  Panhard & Levassor
Model/type  Lorry
Coachwork  Panhard & Levassor
Construction year  1907
Colour coachwork  Green
Engine  4-cylinder
Power  15 hp
Gearbox  Manual
Had hij met kratten mosselen over Franse kustwegen gerammeld? Of tonnetjes oesters aangesleept voor de restaurants van Paris-Plage? Misschien had de Panhard & Levassor wel vliegtuigonderdelen vervoerd voor luchtvaartpionier Louis Blériot, die in 1910 zijn intrek had genomen in Le Touquet. Niemand wist het. De vrachtwagen stond al jaren werkeloos in de zilte zeelucht van Noord-Frankrijk, toen Ghislain Mahy hem eind jaren 1950 kocht van een schroothandelaar. Voor de prijs van het oud ijzer laadde hij hem samen met twee andere Franse karretjes op de aanhangwagen. De Panhard & Levassor verkeerde nog in goede staat voor een werkpaard uit 1907. Zijn voorste banden was hij kwijt, maar de cabine en laadruimte waren min of meer intact. Zelfs het zeil om kostbare ladingen te beschermen was slechts hier en daar gescheurd. Toen nog. Meer dan een halve eeuw later heeft de vergankelijkheid haar werk verricht en de vrachtwagen aangevreten tot een ruïne op wielen.
De Panhard & Levassor was een echte Parijzenaar, gebouwd in de oude fabriek aan de Avenue d'Ivry. Een buitengewoon model ook, want het merk stond vooral bekend als bouwer van racewagens en luxueuze limousines. Opgericht door René Panhard en zijn studiegenoot Emile Levassor in 1886, was het een van de oudste automerken ter wereld. De dood van Levassor in een auto-ongeluk gooide alles overhoop, maar na een eind weifelen ging de rouwende Panhard alleen verder. Na de Tweede Wereldoorlog zieltoogde het ooit zo roemrijke Franse merk en werd het overgenomen door Citroën, om in 1967 geruisloos te verdwijnen. Een heel ander verhaal dan in de eerste jaren van de 20ste eeuw, toen Panhard & Levassor grote sier maakte in de Grote Prijs van Frankrijk. In 1907 verschenen er drie racewagens van Panhard aan de start in Dieppe. En door de straten van Parijs paradeerde de Panhard & Levassor La Marquise in lila en poederblauw. Heel wat eleganter dan de vrachtwagen met zijn gedeukte spatborden en krakende planken uit hetzelfde jaar voordien, maar stukken minder charmant.
Auto  Panhard & Levassor
Model/type  Truck
Koetswerk  Panhard & Levassor
Bouwjaar  1907
Kleur koetswerk  Groen
Motor  4 cil
Vermogen  15 pk
Versnellingsbak  Manueel