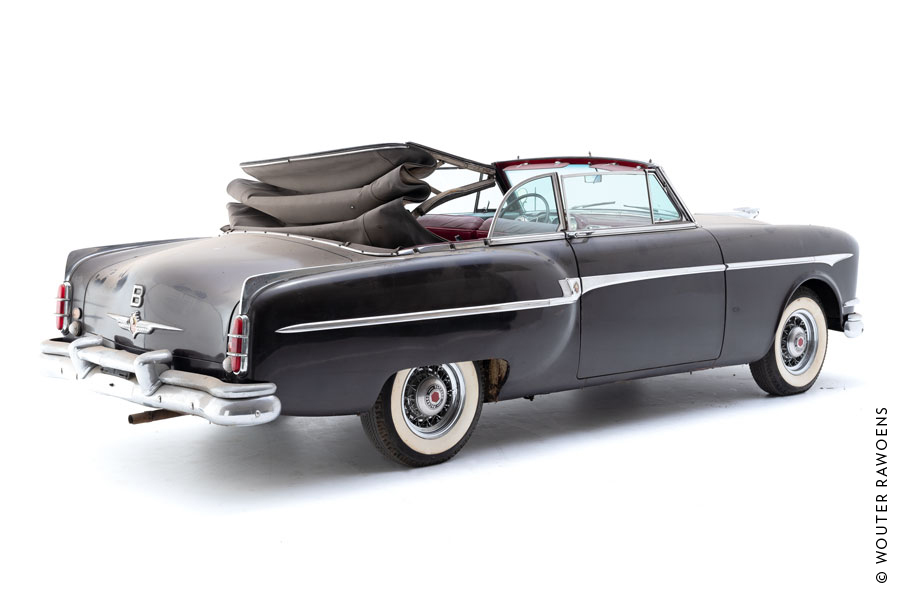 Ivan Mahy kept the Packard hidden from public view. Visitors to the museum were never allowed to see the sturdy two-door Patrician. Not that there was anything wrong with it. Its richly chromed coachwork was still in excellent condition and its fabric roof was almost miraculously intact. Even so, the Packard was a source of worry to Ivan. He wasn't really certain whether he should have it or not. The car had been acquired in an unusual and possibly even an improper way.
Always on the lookout for locations where he could display his beautifully restored cars, in the early 1970s Ghislain Mahy set his sights on the castle at Beloeil. Prince Antoine de Ligne had offered him the use of an old stable on his huge estate. When Mahy first came to inspect the stable, it was full of old carriages and disused cars, and still smelt of pigs and horses. The Prince agreed to clear the space and was as good as his word. When Mahy next returned, the stable was empty – apart from a 1953 Packard Patrician. A family heirloom, explained the Prince. Was Mahy perhaps interested in having it? That was not the kind of question you ever needed to ask Ivan twice! Soon after, the Packard was loaded up and on its way to Ghent.
For six years, the Packard Patrician was the top model produced on the East Grand Boulevard in Detroit, until it was finally discontinued in 1956. Packard had recently entered into an unhappy marriage with Studebaker, which led to the closure of the Detroit plant in 1957. Two years later, the Packard name disappeared altogether. With its V8 engine and 5360 cc, the 1953 convertible was as powerful as it was stylish. It was the last model with a starter button under the dashboard, but also one of the first with electric windows. This technical wizardry, plus the luxurious red leather upholstery, set back potential buyers some 4,000 dollars. In other words, big bucks.
Ten of Mahy's finest cars were put on display for a whole summer in the stable at Beloeil, but when he went to collect them in the autumn he found them covered in dust. The Prince was someone who easily lost interest in things. As a result, he failed to maintain the exhibition the way he should have done. The cars were transported back to Ghent and the Prince and the collector bid each other a cool farewell.
For decades, the Patrician stood gathering dust of its own among the wrecks in Ghent and Leuze. But it had not been forgotten. At least not by the family in Beloeil. One day, Ivan Mahy received a letter from one of the Prince's descendants. This young patrician was planning to get married and wished to drive to the church in the Patrician! That was impossible: the old V8 engine had long since given up the ghost. But Mahy feared that they would ask for the return of their old family car anyway. To his great relief, they didn't. The car was now rightfully his and could take its proper place in the collection!
Make  Packard
Model/type  Patrician Convertible
Coachwork  Packard
Construction year  1953
Colour coachwork  Dark claret
Engine  8-cylinder
Power  180 hp
Displacement  5360 cc
Gearbox  Ultramatic
Ivan Mahy gardait anxieusement sa Packard à l'abri des curieux. Ni les visiteurs du musée ni les collectionneurs toujours avides de nouveautés n'ont jamais aperçu la robuste deux-portes. Pourtant, la Patrician a l'air bien en forme. La carrosserie surchargée de chrome est restée intacte et même la capote en toile du toit est miraculeusement conservée. Mais cette Packard était une affaire délicate. Mahy ne savait pas très bien s'il pouvait la considérer comme sienne, car elle a rejoint sa collection de manière un peu bizarre, peut-être même abusive.
Comme il est toujours à la recherche d'endroits pour exposer des joyaux restaurés, Ghislain Mahy se retrouve un jour du début des années 1970 au château de Belœil. Le prince Antoine de Ligne a proposé d'exposer une série de voitures anciennes dans une ancienne étable de son domaine gigantesque. Lors de la première visite de Mahy, l'espace est encore rempli de vieilles charrettes et voitures, et ça pue les cochons qui ont vécu ici dans la paille. Mais le prince étant un homme d'action, l'étable est entièrement dégagée quelques semaines plus tard, à l'exception d'une Packard Patrician de 1953. Un souvenir de famille, dit le gentilhomme. Et si ça peut intéresser Mahy ? Ce dernier ne se laisse pas prier et, peu de temps après, la Packard est embarquée et en route pour Gand.
La Packard Patrician est pendant six ans une véritable vedette au East Grand Boulevard à Détroit avant de se voir limogée en 1956. Durant cette période, Packard a conclu un mariage malheureux avec Studebaker qui ferme la fabrique de Détroit en 1957. Deux ans plus tard, le nom Packard disparaît pour de bon. Avec son moteur V8 ronflant régulièrement et ses 5 360 cm3, la décapotable de 1953 est aussi élégante que puissante. C'est la dernière avec le starter sous le tableau de bord, mais bien une des premières aux vitres électriques. Des gadgets et du beau cuir rouge pour lesquels il faut débourser plus de 4 000 dollars à l'époque.
Le temps d'un été, une dizaine de joyaux de Mahy sont donc exposés au domaine de Belœil, mais, à l'automne, il les retrouve sous une couche de poussière. Le prince s'en est assez vite lassé et a négligé l'entretien de l'exposition. Les voitures reprennent donc la route de Gand, le collectionneur et le prince se séparent d'un air compassé.
Pendant des décennies, la Patrician de Belœil demeure sans attirer l'attention parmi les épaves stationnées à Gand et à Leuze. Mais elle n'est pas oubliée pour autant… Il y a quelques années, une requête surprenante arriva de Belœil : un descendant de la lignée princière séculaire sur le point de se marier souhaitait se servir de la Packard avec ses sièges accueillants comme voiture de cérémonie. Un souhait impossible à réaliser puisque le moteur V8 ne marche plus depuis longtemps. Au grand soulagement de Mahy, les patriciens de Belœil ne firent pas valoir un droit quelconque sur la voiture. Le souvenir de famille semble donc bien avoir rejoint la collection de manière légitime.
Auto  Packard
Modèle/type  Patrician Convertible
Carrosserie  Packard
Année de construction  1953
Couleur  Bordeaux foncé
Moteur  8 cylindres
Puissance  180 CV
Cylindrée  5360 cm³
Boîte de vitesses  Ultramatic
Angstvallig hield Ivan Mahy de Packard verborgen. Museumbezoekers en weetgrage collectioneurs kregen de robuuste tweedeurs nooit te zien. Nochtans zag de Patrician er allerbest uit. Het overdadig met chroom beladen koetswerk was onberispelijk gebleven en het stoffen dak was als bij wonder intact. Toch was die Packard een vervelende zaak. Mahy wist niet of hij hem wel mocht hebben, want de auto was op een eigenaardige en misschien zelfs oneigenlijke wijze in zijn verzameling terechtgekomen.
Altijd op zoek naar een plek om zijn gerestaureerde pronkstukken te stallen, was Ghislain Mahy in de vroege jaren 1970 op het kasteel van Beloeil beland. Prins Antoine de Ligne had aangeboden een aantal oldtimers tentoon te stellen in een oude stal op zijn gigantische domein. De ruimte stond bij Mahy's eerste bezoek nog vol afgedankte karren en auto's, en stonk nog naar de varkens die er in het stro hadden gewroet. Maar de prins wist van aanpakken en luttele weken later was de stal leeg, op een Packard Patrician uit 1953 na. Een familiestuk, zei de edelman. En of Mahy geïnteresseerd was? Dat liet Ghislain zich geen twee keer vragen, en niet veel later was de Packard al opgeladen en op weg naar Gent.
De Packard Patrician was zes jaar lang het topmodel geweest aan de East Grand Boulevard in Detroit, totdat hij in 1956 werd afgedankt. Packard was ondertussen een ongelukkig huwelijk aangegaan met Studebaker, dat in 1957 de fabriek in Detroit sloot. Twee jaar later verdween de naam Packard voorgoed. De convertible uit 1953 was met zijn snorrende V8 en 5360 cc even krachtig als stijlvol. Het was de laatste versie met de startknop onder het dashboard, maar wel een van de eerste met elektrische ruiten. Snufjes en roodleren luxe, waar je ruim 4000 dollar voor moest neertellen.
Een zomer lang stonden er een tiental juweeltjes van Mahy op het domein van Beloeil, maar in de herfst vond hij ze onder het stof terug. De prins raakte namelijk snel verveeld en had het onderhoud van de tentoonstelling verwaarloosd. De auto's verhuisden terug naar Gent, en de verzamelaar en de prins namen met geforceerde beleefdheid afscheid.
Decennialang stond de Patrician uit Beloeil achteloos tussen wrakken geparkeerd in Gent en Leuze. Maar vergeten was hij niet. Enkele jaren geleden kwam er een verrassende vraag uit Beloeil. Een telg van het eeuwenoude prinsengeslacht De Ligne zou trouwen en wenste de Packard met zijn zachte banken als ceremoniewagen te gebruiken. Dat was onmogelijk, want de V8 snorde al lang niet meer. Tot opluchting van Mahy vroegen de patriciërs uit Beloeil hun Patrician niet terug. Het familiestuk was dan toch op rechtmatige wijze in de collectie gekomen.
Auto Packard
Model/type Patrician Convertible
Koetswerk Packard
Bouwjaar 1953
Kleur koetswerk Donkerbordeaux
Motor 8 cil
Vermogen 180 pk
Cilinderinhoud 5360 cc
Versnellingsbak Ultramatic