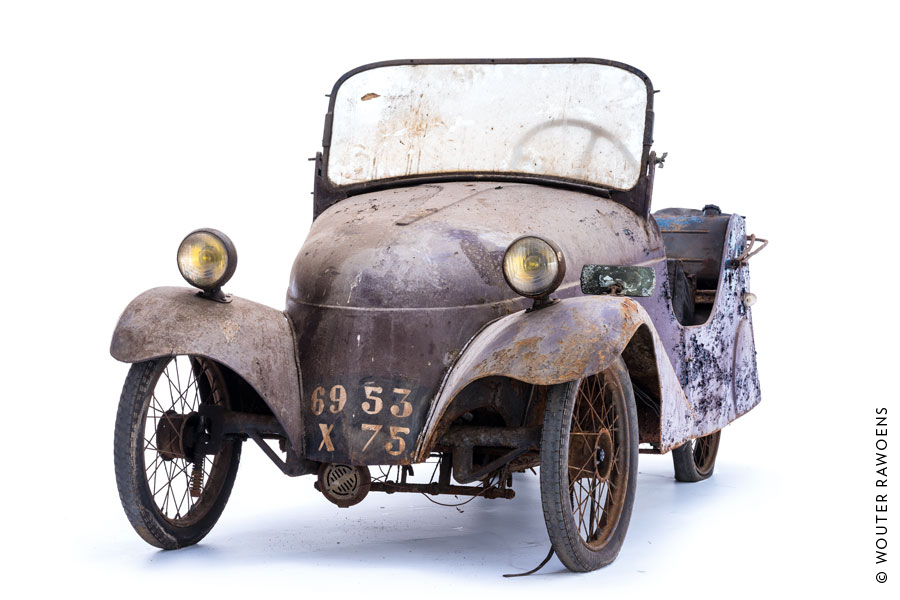 Raindrops thud monotonously onto the wings of the Mochet. The car stands exactly under a hole in the roof, its back wheels almost constantly in a puddle. Just 2.5 metres long and 1 metre wide, it seems lost amongst all the other old-timers in the factory hall. A midget amongst giants.
Over a century ago, the children of well-to-do Parisian families were racing through the Jardin du Luxembourg in Charles Mochet pedal cars. Many of their parents later invested in a Vélocar by Mochet. These feather-light cyclecars broke record after record, and were soon banned from cycling races. Son Georges Mochet saw the future in motorised transport, but the pedalled vehicles turned out to be a blessing in disguise during the Second World War, when petrol was scarce in occupied France. After the war, Mochet decided to go into the production of micro-cars. The company did a deal with Zürcher to provide 100 cc two-stroke engines for the Vélocar Types H and K. This was powerful enough to rattle the angular-looking vehicles along the cobbled streets of French cities, but as soon as there was a slope the driver had to get out and push! Likewise, the comfort offered by the Vélocar left a lot to be desired. It was a tight squeeze for two people and the canopy did little to keep out the wind and rain. Georges Mochet did not believe in spending time and money on coachwork; hence its odd construction, which looked like an explosion of triangles. This all changed in 1949 with the launch of the CM-125. This had a rounder shape and was made from welded (and now watertight!) steel plates. It also had a more powerful single-cylinder engine, providing 3.5 horsepower, but only after the car was run in over 500 miles in eleven exact intervals of driving and rest! Perhaps for this reason, fewer than 2,000 CM-125s rolled out of the factory in the Parisian suburb of Puteaux. Very few of them still survive today; the car picked up by Mahy almost half a century ago is therefore something of a rarity.
In 1953, Mochet launched a fully fledged car at the Paris Salon, inspired by BMW police models. It never went into production. To make matters worse, the market for micro-cars was shrinking: at 230,000 French francs, the CM-125 was more expensive than a Citroën 2CV. Mochet held its head above water for the next five years, but then the tide came in and swept the company away.
Make  Mochet
Model/type  CM-125
Coachwork  Mochet
Construction year  1949
Colour coachwork  Claret
Engine  2-stroke
Displacement  100 cc
Gearbox  2-speed
Les gouttes de pluie monotones tombent sur le garde-boue de la Mochet. La petite voiture doit se contenter d'une place sous un trou dans le toit, ses roues arrière dans une flaque. Avec ses 2,5 m de longueur et 1 m de largeur, elle semble un peu perdue entre les autres voitures anciennes dans ce hall d'usine résonant. Petit Poucet parmi des géants.
Il y a plus d'un siècle, sur les allées en gravier du Jardin du Luxembourg à Paris, des enfants cahotent dans de petites voitures à pédales de Charles Mochet. Peu de temps après, des messieurs de bonne famille se dépassent en pédalant à leur tour dans un vélocar de Mochet. Ces vélocars ultralégers battent bientôt des records et se voient bientôt mis au ban des courses cyclistes. Le fils Mochet, Georges, voit davantage dans le transport motorisé, mais les voitures à pédales restent très bienvenues pendant la Seconde Guerre mondiale dans une France occupée où l'essence est rare. Après la guerre, Mochet s'applique à la construction de microvoitures et trouve auprès de la marque de moteurs Zürcher un moteur à deux temps de 100 cc pour sa Vélocar Types H et K. Un moteur suffisamment puissant pour faire avancer la carrosserie anguleuse sur les pavés. Mais quand la route monte, il faut descendre de voiture et pousser. Au niveau du confort, ce n'est pas fabuleux non plus. À deux, on est vraiment à l'étroit et la capote protégeait à peine de la pluie qui pénètre d'ailleurs par les coutures de la carrosserie. Georges Mochet n'a pas de temps à perdre avec la carrosserie selon lui, de là cette construction bizarre avec une profusion de triangles. En 1949, les choses changent avec la CM-125 qui a des formes plus arrondies et de la tôle d'acier étanche. Son monocylindre est plus puissant aussi qui envoie 3,5 cv vers les roues, mais à la stricte condition que le moteur soit rodé pendant 500 milles avec onze intervalles exacts de conduite et de refroidissement. Jusqu'en 1953, pas même 2 000 exemplaires de la voiturette ont quitté l'usine dans le faubourg parisien de Puteaux. Encore moins de Mochet ont survécu jusqu'à notre époque. Aussi, la petite voiture que Mahy a su trouver il y a presque cinquante ans est-elle une rareté.
En 1953, Mochet présente au Salon de Paris une auto à part entière, inspirée des motos de police de BMW. Il n'ira pas plus loin que ce prototype. Pour comble de malheur, la vente des microvoitures coule. C'est vrai aussi qu'avec son prix de 230 000 ff, la Mochet CM-125 est plus chère que la Citroën 2 cv.
Mochet tient encore cinq ans la tête au-dessus de l'eau, mais l'année 1958 voit la fin de son entreprise.
Auto  Mochet
Modèle/type  CM-125
Carrosserie  Mochet
Année de construction  1949
Couleur  Bordeaux
Moteur  deux-temps
Cylindrée  100 cm³
Boîte de vitesses  boîtier 2 vitesses
Monotoon tinkelen regendruppels op het spatbord van de Mochet. Het autootje staat precies onder een gat in het dak, met de achterwielen in een plas. Amper 2,5 meter lang en 1 meter breed lijkt hij verloren tussen de andere oldtimers in de galmende fabriekshal. Een dreumes onder reuzen.
Ruim een eeuw geleden hobbelden er kinderen in pedaalautootjes van Charles Mochet over het grind van de Jardin du Luxembourg in Parijs. Niet veel later trapten ook heren van stand zichzelf voorbij in een Vélocar van Mochet. De vederlichte fietsauto's braken records en werden al snel verbannen uit fietswedstrijden. Zoon Georges Mochet zag meer brood in gemotoriseerd vervoer, maar de trapauto's bleken een zegen tijdens de Tweede Wereldoorlog, toen er benzineschaarste heerste in het bezette Frankrijk. Na de oorlog schakelde Mochet over op de bouw van microauto's. Bij motorenmerk Zürcher haalde hij een tweetakt van 100 cc voor zijn Vélocar Types H en K. Die was voldoende krachtig om het hoekige koetswerk over de kasseien te laten denderen. Maar ging het bergop, dan moest de bestuurder uit het wagentje wippen om te duwen. Evenmin fabuleus was het comfort. Met twee personen zat je erg krap en de kap bood nauwelijks bescherming tegen de regen, die bovendien door de naden van de carrosserie sijpelde. Georges Mochet wilde aan het koetswerk geen tijd spenderen, vandaar de vreemde constructie in een explosie van driehoeken. Daar kwam in 1949 verandering in met de CM-125. Die kreeg rondere vormen en waterdicht gelaste staalplaten. Ook had hij een krachtigere eencilinder. Die duwde 3,5 pk naar de wielen, maar wel pas nadat de motor 500 mijl lang met exact elf intervallen van rijden en afkoelen was ingereden. Tot in 1953 rolden er nog geen 2000 stuks van de kleine kar uit de fabriekspoorten in de Parijse buitenwijk Puteaux. Nog veel minder Mochets overleefden het tot vandaag. Het autootje dat Mahy bijna vijftig jaar geleden op de kop tikte, is zeldzaam.
In 1953 stelde Mochet op het salon van Parijs een volwaardige auto voor, geïnspireerd op de politiemotoren van BMW. Het bleef bij dat ene prototype. Tot overmaat van ramp slonk de verkoop van de microauto's. Met zijn prijs van 230.000 Franse frank was de Mochet CM-125 trouwens duurder dan een Citroën 2CV. Nog vijf jaar hield Mochet het hoofd boven water, maar in 1958 was de tijd van gaan gekomen.
Auto Mochet
Model/type CM-125
Koetswerk Mochet
Bouwjaar 1949
Kleur koetswerk Bordeaux
Motor 2-takt
Cilinderinhoud 100 cc
Versnellingsbak 2 versnellingen