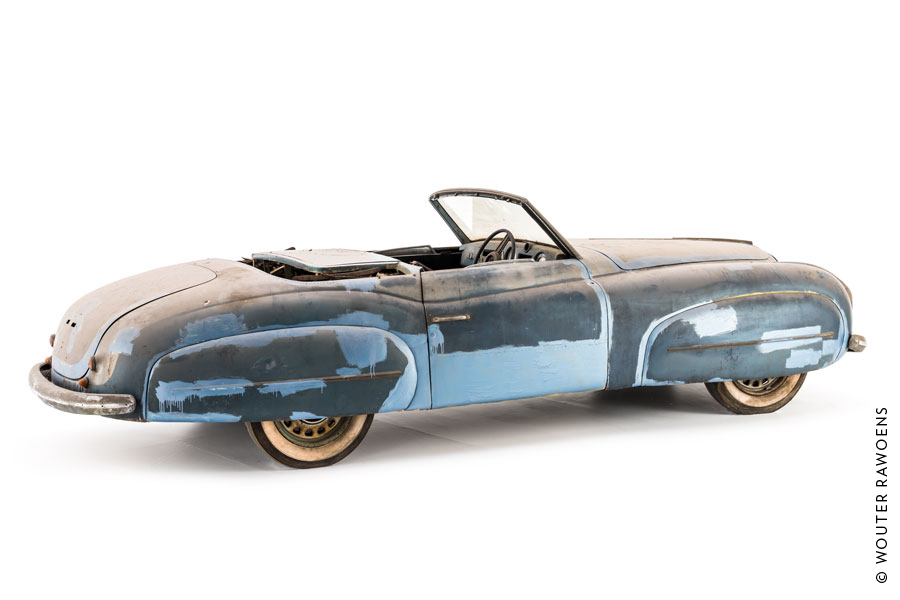 Delahaye 135MS – Ghia-Aigle
One of the stars of the show at the 1948 Geneva Car Show was a breath-taking Delahaye 135MS, a cabriolet with coachwork designed by Ghia in Turin and built by Ghia-Aigle in Valais. A year later, the Swiss subsidiary made a coupé version, based on the same drawings by master-designer Mario Boano. After several years gaining experience at Pininfarina, in 1944 Boano bought the company of his deceased friend, Giacinto Ghia. Later, he would be responsible for such classic designs as the Karmann Ghia and the Ferrari 250 GT. His Delahaye coupé is now regarded as one of the most stylish models in motoring history. A second copy of the coupé was ordered by no less a person than the Shah of Iran, which Ghia built in Turin. If anything, however, the royal blue of the Delahaye cabriolet at the Geneva Salon was even more graceful, as well as being literally unique. The cabriolet had the same half-covered wheels, which you might think would be inconvenient in the event of a flat tyre, but the covers could easily be raised with the simple operation of a handle. An equally simple press of a button was also enough to retract the plate covering the two rear seats, instantly creating more passenger space. Later, this wonderful car disappeared, seemingly without trace.
Perhaps as a result, the Ghia acquired a legendary status among car fanatics as the epitome of four-wheeled beauty and technical ingenuity, lost forever and probably reduced to scrap… Whereas in reality the Delahaye 135MS Ghia-Aigle cabriolet had been safely tucked away for years in the garages at Leuze-en-Hainaut! It was just that no-one knew about it! It was back in the 1970s that Ghislain Mahy exchanged the Delahaye for a Facel Vega with Jan Bruijn, who later went on to found the car museum at Deventer in The Netherlands. The original royal blue is now hidden beneath a top layer and patina of steel blue paint and the half-loose chrome bumper has long since lost its shine. Yet even these defects cannot conceal the innate elegance of the Delahaye and its remarkable design. Before it was moved to Leuze, it was first kept in a factory hall in the Koningsdal in Ghent. A group of young tearaways broke in and smashed the headlights and rear view mirrors of numerous vehicles, including those of this most attractive of cars that was once thought no longer to exist!
Make  Delahaye
Model/type  135MS
Coachwork  Ghia-Aigle
Construction year  1948
Colour coachwork  Blue
Engine  6-cylinder
Power rating  20 hp
Displacement  3557 cc
Gearbox  Cotal pre-selector
Au Salon de Genève en 1948 se trouve exposée une Delahaye 135 MS époustouflante, un cabriolet avec une carrosserie créée chez Ghia à Turin et exécutée par Ghia-Aigle dans le Valais. Un an plus tard, la filiale suisse réalise une version coupé d'après le même dessin du maître styliste Mario Boano. Ayant accumulé quelques années d'expérience chez Pininfarina, Boano rachète en 1944 l'entreprise de pointe de son ami Giacinto Ghia. Plus tard, il dessinera aussi les célèbres modèles sportifs comme la Karmann Ghia et la Ferrari 250 GT. Sa Delahaye coupé est entrée dans les annales comme un des plus beaux joyaux de l'histoire de l'automobile. Le shah d'Iran a commandé un deuxième exemplaire du coupé que Ghia construisait à Turin. Mais la Delahaye cabriolet bleu roi du Salon de Genève est si possible encore plus gracieuse et littéralement unique. La voiture a les mêmes roues partiellement cachées, et pourtant, pas de soucis en cas de crevaison, car les garde-boue arrondis se soulèvent par une simple pression sur une poignée. Et par une pression tout aussi simple sur un bouton, la pièce couvrante derrière les sièges avant bascule, découvrant deux places assises supplémentaires. Ce superbe cabriolet a disparu sans laisser de traces.
Pour les amateurs d'automobiles, cette Ghia est un fantôme légendaire. Un sommet d'élégance et d'ingéniosité, probablement réduit en ferraille sans valeur. Pourtant, la Delahaye 135 MS Ghia-Aigle cabriolet se trouve tout simplement à Leuze-en-Hainaut. Mais presque personne n'est au courant. Ça fait des décennies que la voiture aux 6 cylindres presque ridiculement puissante n'a plus rugi. Dans les années 1970, Ghislain Mahy échange la Delahaye pour une Facel Vega avec Jan Bruijn, le futur fondateur du musée automobile à Deventer aux Pays-Bas. Le profond bleu royal se cache sous une couche de peinture bleu acier et de patine, le pare-chocs avant chromé à moitié arraché ne brille plus, mais même cela n'est pas capable d'escamoter l'élégance de la Delahaye. Avant de déménager à Leuze, ce cabriolet se mourait dans un hall d'usine au Koningsdal à Gand où un jour, une bande de vauriens ont pénétré par effraction et se sont mis à courir sur les voitures, brisant en passant les phares et les rétroviseurs… notamment de la plus gracieuse de toutes les voitures, qui n'existe en fait plus.
Auto  Delahaye
Modèle/type  135 MS
Carrosserie  Ghia-Aigle
Année de construction  1948
Couleur  Bleue
Moteur  6 cylindres
Chevaux fiscaux  20
Cylindrée  3557 cm³
Boîte de vitesses  Cotal
Op het Salon van Genève in 1948 stond een adembenemende Delahaye 135MS, een cabriolet met een carrosserie die ontworpen was bij Ghia in Turijn en gebouwd door Ghia-Aigle in Valais. Een jaar later maakte dat Zwitserse bijhuis een coupéversie naar dezelfde tekening van meesterontwerper Mario Boano. Met enkele jaren ervaring bij Pininfarina op de teller had Boano in 1944 het bedrijf van zijn overleden vriend Giacinto Ghia gekocht. Later zou hij zijn handtekening zetten onder befaamde vinnige modellen als de Karmann Ghia en de Ferrari 250 gt. Zijn Delahaye coupé ging de annalen in als een van de mooiste pronkstukken uit de autogeschiedenis. De sjah van Iran bestelde een tweede exemplaar van de coupé, dat Ghia in Turijn bouwde. De koningsblauwe Delahaye cabrio die op het Salon van Genève stond, was zo mogelijk nog gracieuzer en letterlijk uniek. De cabriolet had dezelfde weggestoken wielen. Lastig bij een lekke band zou je denken, maar de bolle wielkasten gingen omhoog door eenvoudig op een hendel te drukken. Een even simpele druk op een knop kantelde de afdekplaat achter de voorstoelen, om zo twee extra zitplaatsen tevoorschijn te toveren. De prachtige cabriolet verdween spoorloos.
Voor autoliefhebbers is deze Ghia een legendarische schim. Een summum van elegantie en vernuft, waarschijnlijk herleid tot waardeloos schroot. Nochtans staat de Delahaye 135MS Ghia-Aigle cabriolet heel gewoon in Leuze-en-Hainaut. Maar haast niemand weet het. De belachelijk krachtige zescilinder onder de eindeloze motorkap heeft al decennia niet meer gebruld. In de jaren 1970 ruilde Ghislain Mahy de Delahaye voor een Facel Vega met Jan Bruijn, de latere oprichter van het automuseum in het Nederlandse Deventer. Het diepe koningsblauw is verborgen onder een laag staalblauwe verf en patine, de chromen voorbumper dof en half afgerukt, maar zelfs dat kan de elegantie van de Delahaye niet verdoezelen. Voor hij naar Leuze verhuisde, rustte de cabrio in een fabriekshal in het Gentse Koningsdal. Een bende belhamels brak in, liep over de auto's en sloeg koplampen en spiegels aan diggelen… ook van de bevalligste auto die eigenlijk niet meer bestaat.
Auto Delahaye
Model/type 135MS
Koetswerk Ghia-Aigle
Bouwjaar 1948
Kleur koetswerk Blauw
Motor 6 cil
Fiscale pk 20
Cilinderinhoud 3557 cc
Versnellingsbak Cotal